The first pictures of Splodge
Well, that's what it looked like.
We needed a name for the thing growing in Susan's belly; we didn't want to give it a sex (because we don't really mind whether it pops out as a girl or boy), and "it" seemed a little impersonal. "Splodge" matched the shapes we'd seen in books and magazines, and after our first ultrasound scans we saw no reason to change it.
Seven weeks
We had our first ultrasound scan on Tuesday 3 August 1999 at the Royal Berkshire Independent Hospital in Reading. This was just to date the pregnancy, and to check that everything was going OK. They measured the crown-to-rump (head to bottom) length (12mm) and from that guessed the length of the pregnancy so far (7 weeks, 3 days). This means that Splodge should take its first gulps of air around 18 March 2000.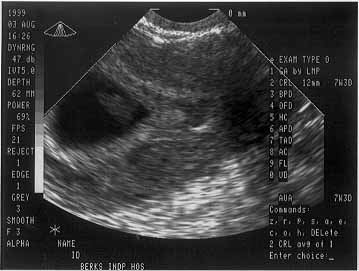 Splodge is toward the top right of the dark area to the left of the scan.
Eleven weeks
This scan was done at the BUPA Dunedin hospital in Reading on Friday 27 August 1999, and its main purpose was to test the nuchal translucency of Splodge, which in turn gives an indication of the risk of it having Down's Syndrome. Everything looked very good, which was reassuring. They couldn't take the measurement while Splodge was resting, so Susan had to get up and wiggle a bit in order to persuade Splodge to move. This scan reckoned that Splodge was exactly 11 weeks old, which gives a due date only one day out from the first scan. The crown-to-rump measurement was 44.1mm, so Splodge seems to be doubling in size approximately every two weeks.
Nineteen weeks
Heatherwood hospital in Ascot, this time (Monday 25 October 1999). Splodge was big enough for them to have a proper look, and they spent nearly ten minutes checking that everything was where it should be. They don't routinely take the crown-to-rump measurement with this scan because by this stage there is enough variation in foetus growth rates that it is no use for dating purposes. However, they measured it when I asked, and it was 140mm, so although Splodge is still growing very quickly, the rate has slowed down quite a bit.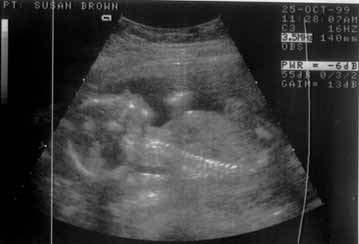 ---
Joseph Woo has a site with lots of good information about Obstetric Ultrasound, including an Ultrasound FAQ.
Ultrasound in pregnancy has lots of useful information.

---
This page is http://www.strangely.org/splodge/index.html. It was first published on Monday 15 May, 2000 and last updated on Monday 15 May, 2000.