Clash of the Titans
Santa Pod, Sunday 16th July 2000.
Convoyed up to Santa Pod for the Clash of the Titans - a friendly grudge match between Nigel Marston with his Superlight R, and Alex Wong with his tweeked Vauxhall. There were six other sevens following me from Binfield (Steve Foster, Simon Parker, Robert Margel and Daren Ball in Caterhams, with Nick Brown and someone who's name I forget in Westfields) over a mix of roads. Some of the back roads between Berkhamsted and Milton Keynes were entertaining, and the roads around MK were surprisingly good fun (whoever decided to plonk a roundabout every mile along national speed limit dual carriageways deserves an award).
The drag racing itself was entertaining (highlights for me were the biker who wheelied nearly the whole 1/4 mile, and still did 12 seconds, and the guy with the kart who had great difficulty keeping the thing pointing straight ahead whilst he did a 10.something. Kevin Lawson took some great photos of the day.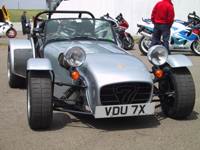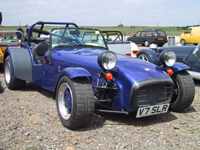 Alex' (silver) and Nigel's (azure) cars.

---
This page is http://www.strangely.org/owned/santapod2000/index.html. It was first published on Saturday 30 December, 2000 and last updated on Saturday 30 December, 2000.