Abingdon airfield, 19 May 2000
Rain didn't stop play.
Despite the showers I had a great day at the
Sylva Sportscar Register
's day at Abingdon airfield. The journey up (including a stretch of the fabulous A417) saw even more odd looks than usual because I had Steve Foster following me in his newly-acquired Vauxhall Seven, with aeroscreens, helmet, and four slicks strapped to the roll-bar! How
serious
did that look?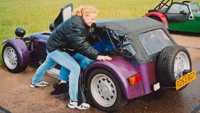 Once there we met up with Jeff Green and his wife, Louise, in their Cadbury-coloured Caterham.
The day was very well organised. There were no sessions, just a limit of 15 cars on track at a time. Surprisingly, there were never more than a couple of cars waiting to get on track. I had all the track time I wanted, and ended up spending 2 1/2 hours blasting around the airfield.
Steve had complained that last time he was there he hadn't been able to crack 100 mph up the main straight, so it became my mission for the day to try and beat the ton. I started off at 96.4 mph (as measured with my bike computer) and finished up on 99.8 mph, but I simply couldn't crack the 100. Boo... Thanks to his increased power and grip, Steve squeezed 102 mph out of his car on the Michelins (his bike computer didn't work when he was on slicks).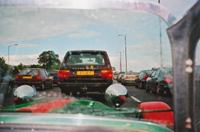 The refuelling dash coincided with a torrential downpour. I got absolutely soaked, but it soon dried up, and we got to play for the rest of the afternoon. It couldn't stay that good though, and the drive home was through occasional rain, and busy roads including a packed M4. Overall, a most enjoyable day.
---
This page is http://www.strangely.org/owned/abingdon/index.html. It was first published on Friday 15 September, 2000 and last updated on Friday 15 September, 2000.