L7C Hants (North) & Berks - May 2003
Winter rebuilds are over - 33 Sevens in the car park! By Steve Foster.
2nd Wednesday of the month meet
A chilly evening but dry. A fair turn out as the last of the winter upgrade stragglers get out of the pits and on to the spring / summer roads.
Brent got his Zetec throttle body conversion going and was popping over to see me when 5 minutes from my house his engine started rattling. I got a call and cycled up the lane to meet him / 7 pulled over in the bus stop in Bisley. Hard tappet noise and an AA flatbed was ordered…
Last Thursday of the month meet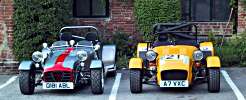 Cracking evening. Loads of 7's in the car park. Brent was showing off a duff hydraulic tappet. The offending item, brand new from Ford was rattling like a good 'un. Brent had replaced the used tappets with new Ford ones but has now changed them all back.
We had nearly every type of Caterham represented this evening. XF, K, VX, Honda & BD power. One keen member counted us as 33 cars in all. That pretty much takes over the Phoenix car park and late comers have to park around the back… Tea was off :-(. Other beverages made up for it :-).
News:
Jason has cooked his Green Stuff pads on the track and has

brake judder

. We talked about the

theory

of pad deposits stuck to the disc being the cause and the cure being some special rubbing paper to remove the stuff off the discs. Apparently discs don't warp to speak of.

Phil was there again in his new colour scheme. Even he has to be careful not to walk straight past the car by mistake.

Dennis is still grinning :-)

The chap who wanted a Weber tune up was not there so I could not have a tinker.

Mr Motts is loving picking bugs out of his teeth and has a well stickered rear end now.

I am trying to get my next door neighbour back to 7 ownership. In the late 80's Richard had a Twin cam, live axle long cockpit, red, flared winged 7 (I've seen a pic of it). He sold it! In his own words, "I sold to pay for our wedding reception, what a twerp". I am always wary of taking non 7'er to the meets. I guess it can get boring for non petrol heads. Richard was in his element. When we got back I asked him why he bought a 7 in the first place. He answered: "It was something I had always wanted since I was a child". So there is true love out there and if that love is strong enough a nice Caterham should be in his garage soon.

Ian's Blackbird has had it tweet curbed. From 116dB to 98 or so by a

Raceco exhaust

. Great job Ammo.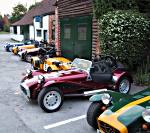 Bill dropped in (he only lives up the road from the Phoenix). If anyone wants a wideband O2 sensor kit drop me an email and I will forward it on to him. They are great for setting up your carbs or throttle bodies and you can be sure that you will never run lean and hole a piston with it connected all the time. They make self mapping a perfectly feasible task and you can get the thing right for all seasons, not just the conditions during one rolling road session.
There was a Scorpion III parked up (BMW bike engine). The couple were visiting our meeting to find out more about Caterhams and talked about the club life and activities being important to them. I was able to explain just why I think the Lotus and Caterham club is so good in that dept.
As the evening drew to a close and the 7's started to leave, some pull away cautiously, their owners warming the coolant and oil gently before gunning them. Others blast out all guns blazing. One chap did a full 360 on the main road as he exited the car park! I am not sure if it was intentional or not from where I was standing. Anyway, he collected it together and sped off.
Steve Foster
Area organiser and scribe.
---
This page is http://www.strangely.org/7club/meetings/200305/index.html. It was first published on Saturday 31 May, 2003 and last updated on Tuesday 2 September, 2003.